What is the difference between "my Trinity Domains account" and "my website"?
Trinity Domains gives you server space in which you can create many different websites, blogs, and the like. Within Domains, you can have multiple sites.
Wait, where do I start?
Go to https://domains.trincoll.edu
How do I log into "Trinity Domains" and access cPanel? 
To access the server interface (called "cPanel") for Trinity Domains, the most common way is to use your normal Trinity credentials (username / pwd) from https://domains.trincoll.edu. This will take you to a screen that looks like this: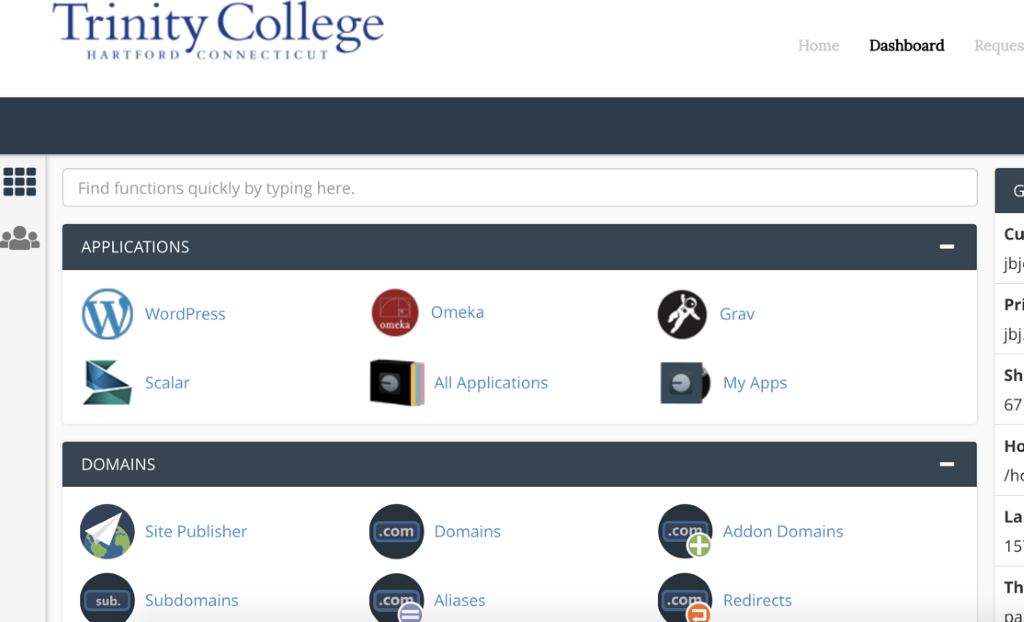 "The most common way"? Does that mean there's another way for users comfortable with a more technical interface?
Yes, but contact Educational Technology / Research Services staff.
Why would I want to log into cPanel?
To change settings on your server (install a security certificate, create subdirectories, etc.)
To install applications such as WordPress, manipulate files, set up an FTP account . . . any of the things one might want to do on a web server!
To access installed applications such as WordPress from one place. (Note that other users of your website will not be able to login this way.)
I mostly care about my WordPress site. How do I log in to that?
When you install WordPress, cPanel automatically creates an administrator username and password. You can always recover your username or change your password here:  
Please keep this username/password in a password manager. 
There are (at least) three ways to access your WordPress site's dashboard:
First Way: Go to your WordPress URL/wp-admin and input your username/password. EXAMPLE URL:  jbj.domains.trincoll.edu/tester/wp-admin/  If you do not know what your WordPress URL is, you can find it here: Go to cPanel and click on either My Apps or WordPress. You will be shown both your WordPress URL (the link you give to others) and your administrative URL (the link where you create new posts/edit settings/etc.): 
Second Way: Go to cPanel and click on "My Apps," then select your blog from the resulting list. If you do this, cPanel will automatically log you in. 

Third, Very Similar Way: Go to cPanel and click on WordPress, then choose "My Applications." If you do this, cPanel will automatically log you in. 
How do I log into any other web app?
cPanel only passes through usernames/passwords for WordPress. If you use an app like Omeka or Scalar or Drupal, you'll need to log in with the username and password that cPanel gives you when you install the application. (You can recover this username/password from the cPanel My Apps interface.)
If you are FTPing into your account—for example, to upload HTML files, to run Jekyll, to share/move files—you can either use the file manager in cPanel, the FTP account associated with your login, or set up a dedicated FTP account for this.  
What are some best practices for collaborating . . . with on-campus faculty/staff? With students? With people from elsewhere?
You can configure your Trinity Domains sites to collaborate with any other person. Whether they have Trinity credentials or not is irrelevant. If you've created any site that allows multiple users (WordPress, Omeka, Scalar, etc.), you just grant your collaborators access via that application's mechanism.
This means you are creating accounts for them in that service. Some guidelines:
Set up as few accounts as possible.
Users should not share accounts. Instead of creating one generic "student" or "author" account and sharing the password, create an individual account for each person who is actually contributing to the site. Passwords should be strong passwords. Again, we encourage using a password manager.
Accounts should have the least access possible—they should have the role most appropriate for what they are doing. (For example, there usually will not be a good reason to have many "admin" users. On a class site, typically the faculty member will be admin, and students will be authors or editors.)
At the end of a class or project, review all accounts and close out any that are no longer relevant.
If you have questions about collaborating with others on your site, Educational Technology / Research Services staff or STAs can help.